Kac Kitchen & Bath
Sdn Bhd
+607-3582388
+607-3582398
FJS 900V
FUJIOH --- COOKER HOOD ---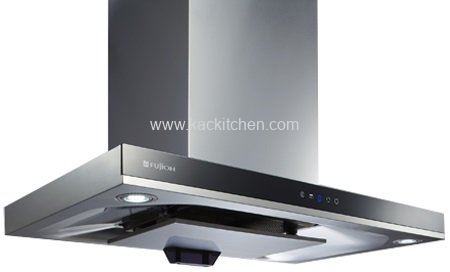 General Specification


Power Supply (V/Hz): 230 - 240 / 50

Light Bulb : LED x 2 Unit

System : Ventilation

Speed : 2

Oil Suction Efficient : 90%

Suction (m³/h) : 1200

Weight : (Kg) 26

Noise : (dB) 54

Dimension (mm) : W900 x D500 x H620 - 920
Outstanding Features
BREAKTHROUGHS THAT
CLEAN OUT THE REST
Our unique Cooker Hoods come with advanced technologies designed in Japan.
The revolutionary Rectifier Panel not only draws in fumes vertically, straight up from your stove, but from all directions as well.
This means, it clears out signficantly more fumes than conventional cooker hoods.
FUJIOH OIL TEACH COOKER HOOD -
Every homemaker deserves a Fujioh Oil Tech Cooker Hood in the kitchen. Cooking, especially delicious Asian recipes, makes fumes hover and linger around the house, and leaves greasy residues on surfaces.
Let a Fujioh Oil Tech Cooker Hood take centre stage in your kitchen and free your family and home from greasy cooking pollutants. You'll breathe a fresh sigh of relief.
Functions
Gathers more fumes than conventional hoods

Customise your required suction power

Captures grease efficiently, easy to clean too

Built-in rear lamp for extra cooking light

Prevents oil build-up, minimal vibration & noise

Built to resist the spread of fire

Collects trapped oil; just remove & empty